Accurate. Complete. Relevant.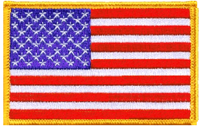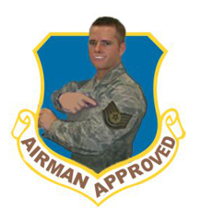 The Free PDG Project provides a complete, section by section review of Air Force Handbook 1. Already adopted by many Air Force members, the Free PDG Project is a free and powerful alternative to expensive commercial products.
All the questions on this site come from the current (1 Oct 2015) Air Force Handbook and, as often as possible, are taken word for word from the text in order to preserve their meaning and aid in recognition.
I urge all Airmen to use this site only as a supplemental tool and to use the official reference as the final authority. Promotions are important and I don't want to be responsible for anyone missing their chance.
Good luck!
Ray Parker, MSgt (retired!)
---
New for the 2015-2017 Edition
The site has been updated for the 2015 PDG (AFH-1). All chapters are current and up to date. The 2013 PDG content will be maintained for out-of-cycle testers and is available via a link at the bottom of the front page. As always, if you're not testing out-of-cycle, do not use last year's study material. There have been a lot of significant changes, additions, and deletions.
I just wanted to say thanks to everyone who used this website last year and especially to all those who took the time to write to let me know they got promoted. I sincerely appreciate the trust you placed in this site and am delighted that it was helpful to so many people. I am also grateful for your patience as we transitioned to a membership site.
---
FreePDG.com — for Airmen deployed around the world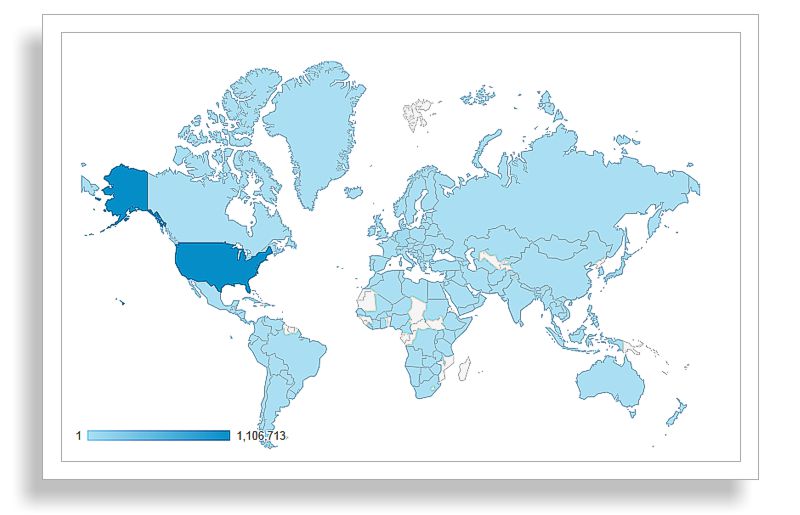 ---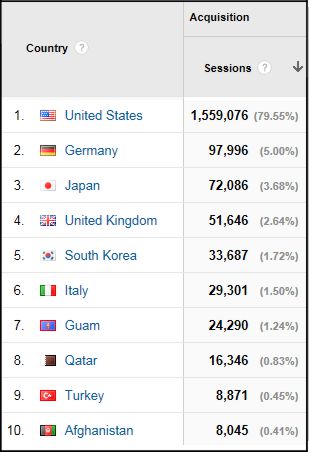 Milestones in 2015
We received over 375,000 unique visitors and over a million visits last year! The Google Analytics map above shows where the visits came from. Any country colored blue was the source of one or more visits. The darker the shade of blue, the more visits. As you can see, the vast majority of visits came from the U.S. but other countries sent significant traffic as well.
Website Redesign
In response to the sharp increase in the number of mobile platforms browsing this site, the website has been redesigned by an e-learning specialist and optimized for mobile users and tablets.
Server Move
Due to increased traffic, the site consistently exceeded resources on our previous host and required a move to a more robust server. We chose KnownHost, a bullet-proof, professional-grade internet host with an established record of reliability and security, and upgraded our bandwidth, memory, and disk space.
Security
Site security has been increased. Sucuri provides daily malware monitoring and reports.